Welcome to St. James Episcopal Church
Florence, Italy
An Anglican Church in Florence
St. James Episcopal Church is a member congregation of the Convocation of Episcopal Churches in Europe and a Parish Church of the Anglican Communion.
St. James Church Office
The office is closed for the summer. We will reopen on Thursday September 1st.
Sunday services will continue every week at 11:00am.
Pilgrim passports for The Way of St. Francis (credenziali) are available on a "self-serve" basis on Sundays before or after the 11:00am mass.
Our normal office hours are Tuesday, Thursday and Friday 9:00am – 1:00pm
We wish you a restful summer – we all wish we could be on an Italian beach like in the image above!
11am Holy Eucharist with sermon and music
We observe the following safety measures:
Masks are required at ALL times while indoors
We urge safe social distancing of at least 1.5 meters (5ft)
Hand sanitizer is encouraged, particularly before Communion
Communion resumes with both bread and wine in May 2022
Via B. Rucellai, 9 
50123 Florence, Italy
We live-stream all Sunday worship services on our YouTube channel. Find us on Sundays at 11:00 AM by CLICKING HERE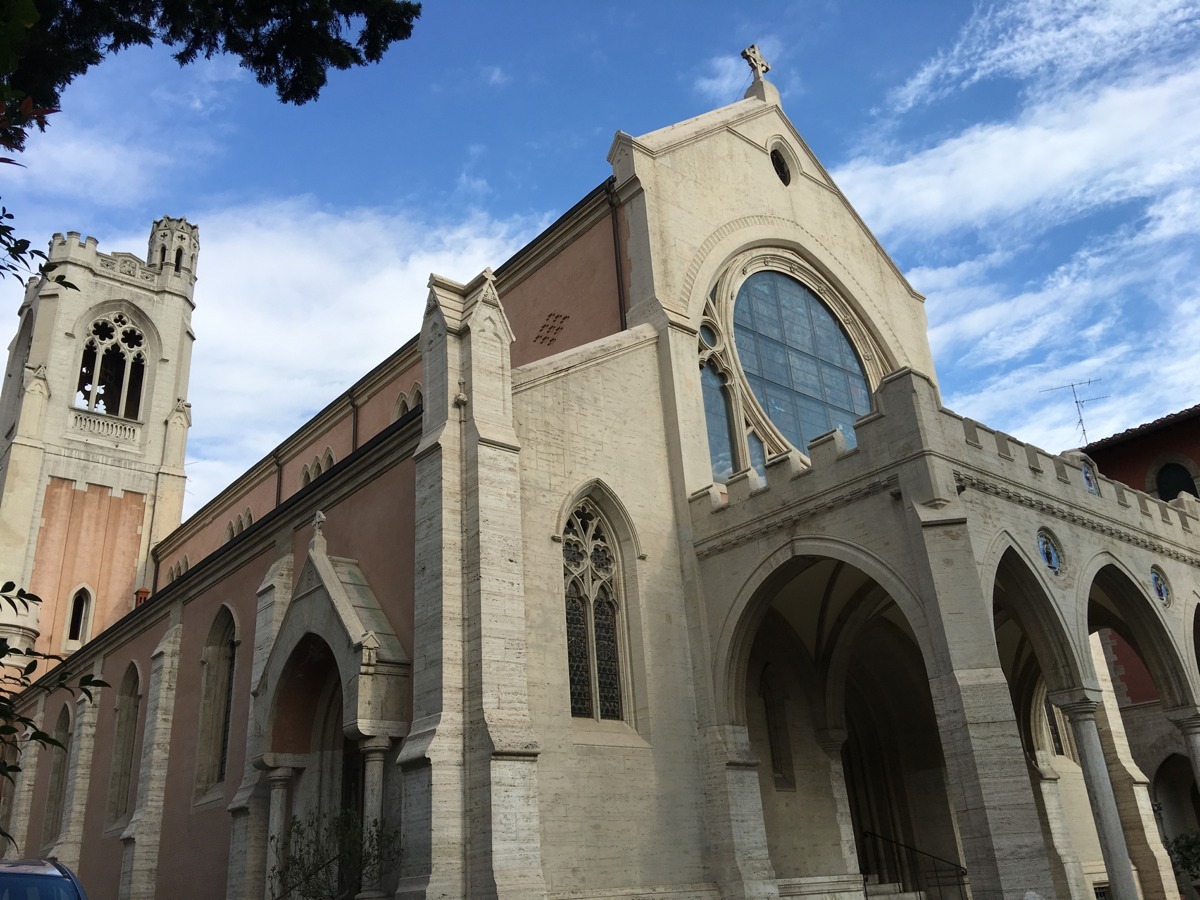 About Us
The city of Florence was closed to non-Roman Catholic churches until the Grand Duke of Tuscany was exiled in 1849. The Tuscan parliament passed legislation permitting churches of other denominations at that time. Around 1850, a few Americans began organizing a church. Our parish was officially recognized in 1867.
The beautiful building we now occupy was designed as the last work of an English architect who was prominent in the Gothic Revival movement of the late 19th century. The land was purchased in 1907 for $12,822. Church construction, the organ, and other furnishings totaled $66,556. More than half of the total funds were contributed by Edward Francis Searles. A crucial $10,000 came from J. Pierpont Morgan, who was approached by church representatives following his generosity to the Episcopal Church in Rome, in facilitating the purchase of land for St. Paul's Within the Walls. Upon examination of the architect's drawings, J.P. Morgan declared the building plans "inadequate" and requested more elaborate plans. When these were produced, so was his gift.
The church closed during World War II, but escaped heavy damage. It reopened in 1947, during a time when the American community in Florence included Bernard Berenson, Sinclair Lewis, and the M.I.T. inventor Philip Baldwin.
The church's most dramatic moment came on November 3 and 4, 1966, when the Arno River flooded and rose to a height of twelve feet in and around many of Florence's most important museums and monuments, doing devastating damage. Water and fuel oil flooded the parish hall under the church, reaching the windowsills of the rectory. St. James parishioners wrote to their friends in America for help. Within the next 3 months, the parish raised $425,000 to ease the suffering of the city. The vestry, in cooperation with the British government, created a relief agency to investigate and document each request, providing a maximum weekly grant of $35 per family.
Although in the past our purpose focused on providing a place of worship and community for English-speaking people, today we are a proudly multilingual and multicultural congregation.
GET IN TOUCH
We would love to hear from you!
"We rejoice in a diverse and international parish family, and serve Italian and English speakers from many denominations, backgrounds and cultures."
OFFICE HOURS:
Monday – Friday
9:00am – 1:00 pm
PHONE/FAX: (+39) 055 29 44 17
EMAIL: info@stjames.it
Codice Fiscale: 800 357 50480 * 
*Note: we do NOT have a partita IVA
STAFF
Rev. Richard Easterling, Priest-in-Charge
Edgardo Sasuman, Sacristan
Patricia Estrada, Secretary