Congratulations and thank you for considering St. James Church in Florence, Italy for your religious ceremony.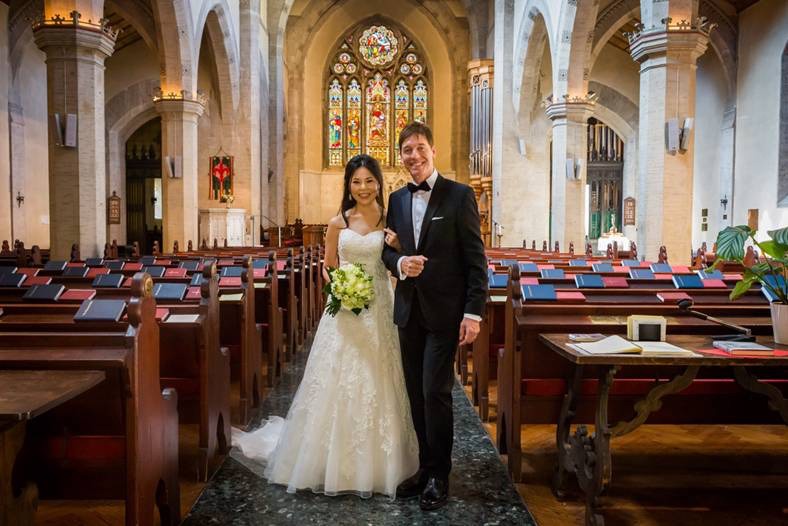 Weddings at St. James in Florence, Italy
Congratulations and thank you for considering St. James Church for your religious ceremony. Below you will find answers to many of your questions. If you do not find what you are looking for, please feel free to email us at: weddings@stjames.it.
To celebrate your wedding in an Episcopal Church, it is not required that you either be Episcopalian or even attend an Episcopal Church, although we encourage you to establish a connection with an Episcopal or Anglican church in your neighborhood in order to become familiar with our tradition.
Requirements
Before your religious ceremony at St. James, Italian law requires that you have had a civil marriage. This can be completed before you leave your home country or here in Italy with the correct license.
We will need to obtain a copy of your marriage certificate before the ceremony can take place in the church.
For more information about U.S. citizens marrying in Italy, please see the U.S. Embassy's webpages:
https://it.usembassy.gov/u-s-citizen-services/marriage/
In order to provide the blessing of God and the church, our canons (laws of the church) require that you be asked some questions about your intentions and status, even though your legal marriage will be done separate from the blessing given at or through St. James Church.  We are to determine that you are fully able and free to make the vows of marriage, and that at least one of you is baptised.
We are required to see that you receive some instruction about Christian marriage (premarital counselling), either done locally or at a venue convenient to you.
If one or both of you have been divorced, there are some additional requirements, including that the divorced person(s) is to write a confidential letter that shall be given to the Rector, and to the Bishop who oversees St. James.
Details regarding these requirements will be provided upon your inquiry.
Your Ceremony
We use the authorized rites of the Episcopal Church. We will provide you with a copy of those ceremonies upon request.
The structure of the service provides opportunities for members of the family and friends to read from the Scriptures, we can provide you with traditional, biblical suggestions if you wish. The Episcopal Church Liturgy does not include additions such as Unity Candles or writing one's own vows. 
Wedding Planning
St. James is able to answer questions regarding the service at the church only. Flowers, photographers, printed handouts, etc. must all be organized by other venues.
We recommend working with one of the many wedding planners in your country or in Tuscany who can organize everything for you. Trying to organize things yourself, a long way away from Florence and possibly speaking little Italian, can be a stressful task.
The contribution you make to St. James Church for your wedding will assist the Church in its maintenance and many activities to help the Florence community. Click here to see the fees associated with a ceremony at St. James Church in Florence.
Music during the Ceremony
Having music during the ceremony is optional. If you wish, we will give you directions on when music is appropriate. We do not allow the playing of prerecorded music at any time.
If you would like to hire our organist you will need to contact him directly as he works freelance (note: organist fees are separate). He is also able to assist you with the selection of suitable music or musicians.
Photo/Video
No flash photography is permitted during the ceremony itself. A flash can be used during the bride's entrance and when the couple exits. After the service, additional photos reenacting the service may be made.
St. James Church is a well lit space. No extra lighting will be permitted unless it has been previously agreed by the church. When photographing, please keep a respectable distance from the wedding party. No photographs from behind the altar or behind the priest allowed.
Additional information
When organizing flowers for the church, please remember that flowers are not permitted on top of the altar.
The throwing of rice is strictly forbidden due to the safety hazard it poses (our portico has marble floor). Flower petals are permitted.
Fees
Wedding ceremony €2.000
Ceremony offsite (within 1h of Florence) €2.500
Optional Rehearsal €200 (one hour)
We require a non-refundable €500 deposit to hold the date, to be applied to the total.
Fees should be transferred to one of our bank accounts.
Within the European Union:
IBAN IT31S0306902887100000008296
Account name: St. James American Church
Banca Intesa 
Via Bufalini, 4
Firenze 50122 Italy
St. James American Church – Florence Italy
via B. Rucellai, 9
Firenze 50122
Italy
BIC/SWIFT: BCITITMM
From outside the E.U.:
ABA 021000021
Account number: 754200764
Account name: St. James American Protestant Episcopal Church
Recipient Bank: J.P. Morgan Chase Bank N.A.
4 Chase Metrotech Center
Brooklyn, NY 11245 USA
Payment via Paypal is available at an additional cost (to cover fees charged).
GET IN TOUCH
We would love to hear from you!
"We rejoice in a diverse and international parish family, and serve Italian and English speakers from many denominations, backgrounds and cultures."
OFFICE HOURS:
Monday – Friday
9:00am – 1:00 pm
PHONE/FAX: (+39) 055 29 44 17
EMAIL: info@stjames.it
Codice Fiscale: 800 357 50480 * 
*Please note: we do NOT have a partita IVA
STAFF:
The Rev. Andrew A. Cooley, Interim Rector
Edgardo Sasuman, Sacristan
Sandro Sanavio, Business Manager
Andrea Ballerini, Bookkeeper
Riccardo Foti, Organist
Patricia Estrada, Secretary